According to an online study with a thousand different people this is how this post will be recieved.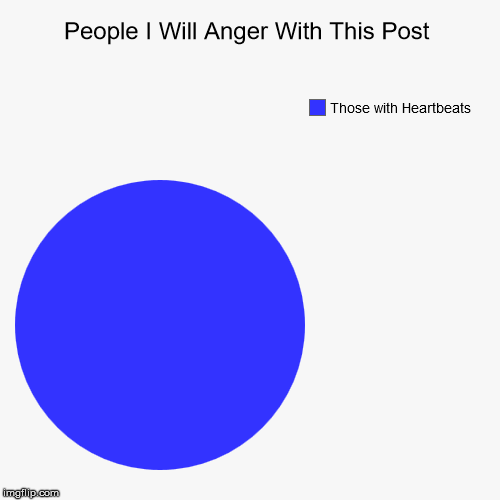 So with that let's talk about white privilege. Let us talk about male privilege. Let us talk about even playing fields and uneven ones. First, if you are using emotions to back up your opinion, and cannot understand how any counterpoints can even exist then congratulations this will be a very painful post so just go away, and actually no just let me put this here for you. If you will not like to hear anything that may hurt your sensibilities then I have at least placed a picture of a baby hippo here. If you can be mad after looking at this then you need to go and decompress before returning back to society because you have no heart.(Joke)
Stow the happiness though because there are somethings I need to share with ya'll because some thing aint adding up to anything.
White privilege, does it exist ? Yes.
Black privilege, does it exist? Yes.
Male privilege? Yes.
Female privilege? Yes.
Every group of people has a set of strengths and weaknesses; privileges and problems and that's just going to happen until people on the whole get to be a lot nicer to each other.
Every subsection of people has sets of advantages and disadvantages that over the grand scheme I would say is closer to even then most people would hate to think. Should everyone be based and judged on person by person basis. In a perfect world then yes, but I do not know when I woke up and it was perfect. The emotion is a good start though because at least that shows investment of people to try and change things. Now, if it could be focused properly most of the problems in this country could be finished in just under a week.
Now, when we talk about such privileges something that is missing is a little context. So, to help show what I am speaking from I am going to give you just the cliff notes so you understand.
I came from a household that was severly abusive in a town known for drugs and gang issues to the point that police would not show up at all despite being a couple miles away. If you were not of latin background then you were in the minority in the school system. Had a lot of social issues, physical issues, mental issues growing up. Loved ones died because of petty arguments and I have been called everything under the sun from a catholic child rapist (Many of the people in the town were raised protestant) to a terrorist to a dyke, fag, cracker. My girlfriend once died because she dated me because she was of latin descent and I was not as well as her raising protestant and mine as more catholic.
I can count most of my true friends on my fingers, and I don't like asking for help on a whole lot. I have been fired from jobs because hiring someone else would bring them better tax breaks and even had jobs taken away from me that I wanted to work because I was not of a certain race. Girls would not date me because I was not in the same or higher tax bracket.
So a lot of the problems that a lot of people have I have seen as well, not all, but enough to at least make this post.
Life is unfair. Sad fact.
Males get paid more in some even the majority of professions, but not all. Being female also allows a slew of tactics to make one's way up the ladder that guys don't get to practice to often. Scholarships and grants for women do not exist for just men, at least I didn't find one in four years of searching. If you find one then please comment with it.
There are no tax breaks for hiring those who identify as white. When companies are trying to save every penny the workforce is going to be a group of people that gets the most bang for their buck in those returns. Colleges are in the same boat many of which will have race on the table if it is worried about the bottom line. Some scholarship funds are give implicitly on race and gender as qualifying factors yet thy exist in the hundreds and thousands.
I have never been to a white lives rally without being termed a racist. In many cases even speaking about the races with a lower melanin content deems you as automatically wrong when if you had more melanin in your skin then it would be a more socialy agreeable action.
If people really want to make it an even playing field then they have to give up the things that provide them advantages over others and let merit of one's work and personality define the person. No race specific grants. No gender specific grants. No tax breaks for hiring those of different skin colors or creeds. No race or gender specific scholarships. No award for nepotism or cliques in the workplace. Companies held to a scientifically quantifiable set of statistics when talking about pay and benefits per person, and if they are skewing the numbers then they must fix it. If I could toss my pluses for an even table for all then ya I will toss those cards like a 7 -2 off suit( poker term: Worst starting hand in texas hold'em)
I don't really care though how far things are going supposedly because I have learned how to socialize more and I know talk to people regularly now then ever before. My facebook has people from more then a dozen different countries on four continents that I chat with regularly, and that's pretty cool to me.
Oh and if you are student of a different race and you are looking for scholarships or grants and havent had a whole lot of luck well…
http://scholarships.fastweb.com/r-african-american-students
https://www.scholarships.com/financial-aid/college-scholarships/scholarships-by-type/minority-scholarships/african-american-scholarships/
http://scholarships.fastweb.com/r-asian-or-pacific-islander-students
https://www.scholarships.com/financial-aid/college-scholarships/scholarships-by-type/minority-scholarships/american-indian-native-american-scholarships/
http://scholarships.fastweb.com/r-hispanic-students
https://www.scholarships.com/financial-aid/college-scholarships/scholarships-by-type/minority-scholarships/hispanic-scholarships/
https://www.scholarships.com/financial-aid/college-scholarships/scholarships-by-type/womens-college-scholarships-grants-and-fellowships/
Shabooski. Obviously these are not going to change for along while so people may should take advantage while they can, and just be aware that for the table to be truly even in something then everyone will need to sacrifice something for it.
With me the only thing you will be gauged one is if your an ass who will not learn or grow and make others grow around them. Red, blue, black, white, yellow, male, female, trans, furry, godlike, bottom tier, earthling, martian, royalty, or the homeless. If I got some beef and bell peppers going on then you can get a plate at my place. If you are vegan then I will just cook some bell peppers and onions with rice for ya. I will make the world a better place for us all.